Martin Tower in Bethlehem, PA has been a landmark in the Lehigh Valley since it was erected to home the titans of industry that ran Bethlehem Steel. When the mill finally shut down, it took hundreds of jobs with it, and executives were no exception. 
For years, Martin Tower stood empty, surveying the valley and awaiting its fate. This past weekend, it finally came down. We were in the air with
Vertivue Air Charters
to cover the historic event with their innovative
Skybox
camera system. Photographer Glenn Koehler from the
National Museum of Industrial History
was along with us to complete the story of this building.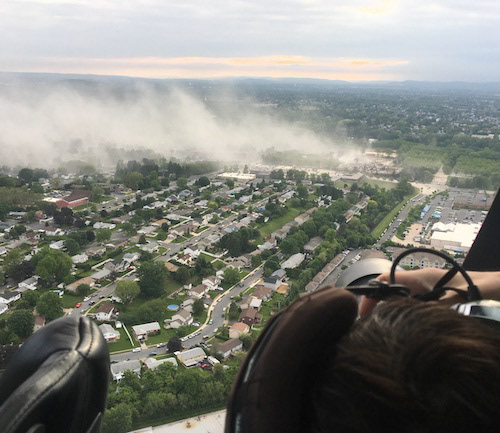 We met Ted - Chief Pilot of Vertivue Air Charters - and his son at Queen City Airport around 6am on an overcast Sunday morning. Ted had just returned late the night before from flying VIP's around the country on Vertivue's
Beechcraft King Air F90
, but he was bright-eyed and as ready to go as the rest of us. He pushed the
Enstrom 480B
helicopter out the tarmac, we fired up the gyros for the Skybox camera system, and were quickly en route to Martin Tower.
As we circled Martin Tower for the next 20 minutes, we could feel the anticipation through the radio chatter. There were at least two other helicopters in the area - including Chopper3 from Philly - but the Vertivue helicopter had the  best view by far. We got the 1-minute-to-go call, and everyone's pulse definitely jumped up a notch. That feeling when you only get one chance at nailing the shot is a unique one. 
10 seconds to go, it was any time now. We started seeing little flashes throughout the building. My eyes were glued to the monitor, making absolutely sure I kept the tower in frame and looking good. Then we could feel the percussion from the explosions as the shock waves hit us, like when you're watching a big Fourth of July show. And then, as soon as it started, it was over. The entire building was reduced to a pile much smaller than it looked like it should have been. The dust cloud started rolling northward, slowly covering a number of unfortunately placed neighborhoods. We continued circling for another 20 minutes, watching it clear. Then it was back to base at Queen City Airport where Vertivue is headquartered.
Wow. That was an amazing aerial video charter flight! It was so cool to be a part of Bethlehem history. Though not originally from this area, the Lehigh Valley has become our true home. What a wonderful place to live and work!